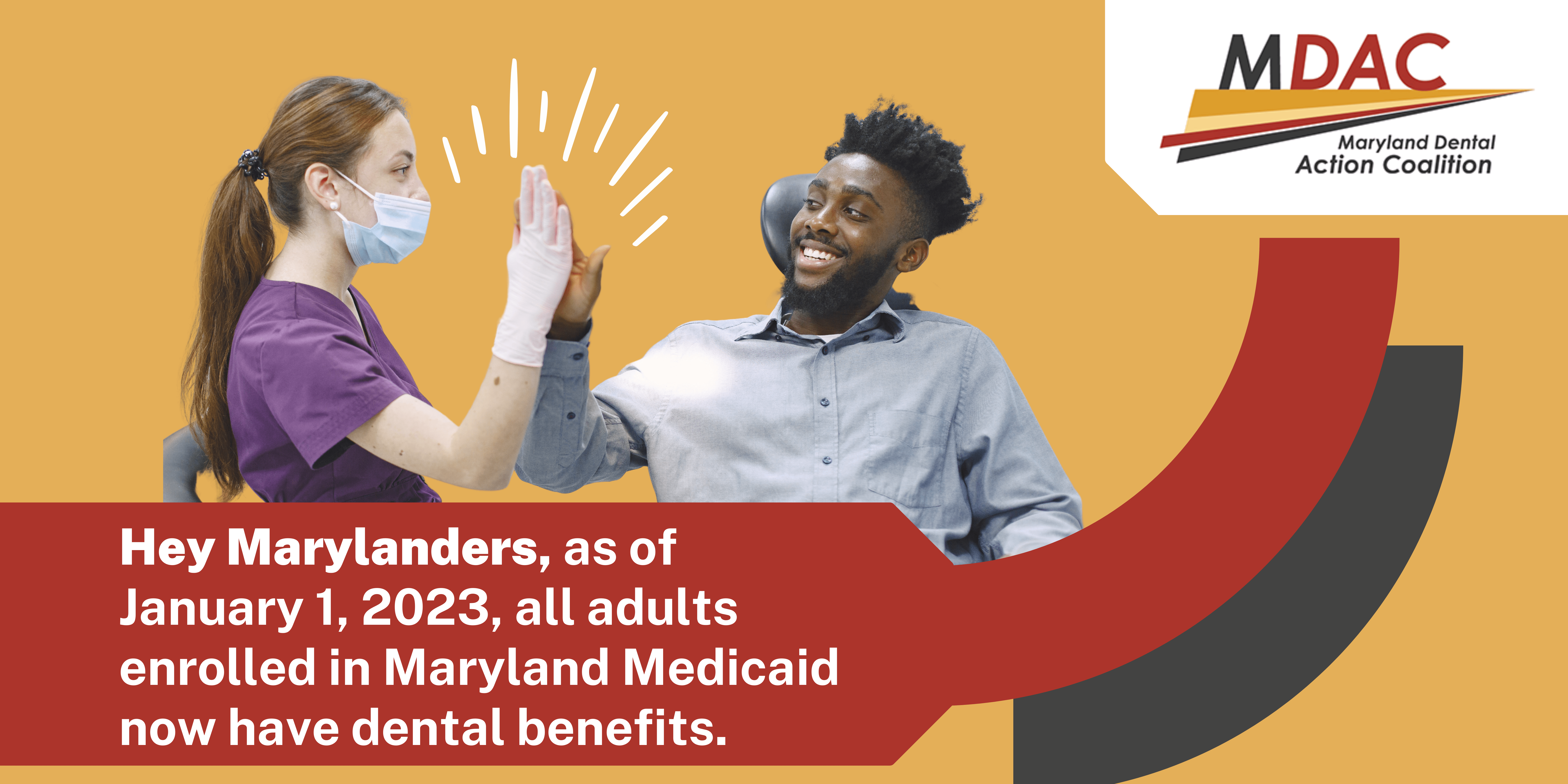 Medicaid Adult Dental Benefits 2023
Maryland Medical Assistance Program Dental Coverage for Adults 
---
Overview of Medicaid Adult Dental Coverage:  
Starting January 1, 2023, adults enrolled in the Maryland Medical Assistance Program (Medicaid) will have coverage for comprehensive dental services through the Maryland Healthy Smiles Dental Program. If you see a dentist who is a member of the Maryland Healthy Smiles dental network, you don't have to pay for dental services that are covered by the program. Learn more about Maryland Healthy Smiles here. 
Who is Covered:  
Available to all adults 21 years and older who receive full Medicaid benefits.  

Services Covered*:  
Maryland Medicaid adult dental coverage, under the Maryland Healthy Smiles Dental Program, include but are not limited to:
Check-ups, exams, and x-rays

Some emergency (specific need) exams

Teeth cleaning and fluoride treatments

Fillings, root canals, and pulling teeth

Crowns

Anesthesia

Preventive care and periodontal therapy

Dentures 

adjustments
*Please note: There are no premiums, deductibles, or copays for covered services. There is no maximum benefit amount each year. 
Services Not Covered Under Benefit:
Experimental procedures

Cosmetic procedures

Dentures for adults 21+​​​
---
How to Find a Dentist:
To find a dentist who sees patients in the Maryland Healthy Smiles Dental Program, you can:
---
Transportation Assistance:
To find transportation assistance to accessing dental care, please refer to this guide from the Maryland Healthy Smiles Dental Program: Local Transportation Contacts
---
MDAC Medicaid Informational Flyers
Click the image below to download the one page digital flyers to share information about the expanded Maryland Medicaid dental coverage. Flyers available in English, Spanish, French (NEW!), and Vietnamese (NEW!). Also all flyers are available in printer-friendly black and white and also half sheets.