MDAC has made significant progress as it works to improve the oral and overall health of Marylanders. With a laser-like focus on the issues, well-developed strategies, and the excellent cooperation and collaboration of coalition members, partners, and stakeholders, MDAC is a strong voice in support of policies that break down oral health inequities, address disparities, and improve access to care for our most vulnerable citizens. MDAC is also an active participant and leader in the national debate about oral health. 
2018 Initiatives and Key Accomplishments:
Conducted a statewide rollout of the Maryland Oral Health Plan.  In January 2018, MDAC issued the 2018-2013 Maryland Oral Health Plan (MOHP), a five-year roadmap to improved oral health for all Marylanders. The plan builds on the oral health improvements achieved since the release of the first state plan in 2011, identifies critical remaining gaps, and outlines strategies to expand access to oral health care, prevent oral disease and injury, and improve the oral health and overall health of all Marylanders.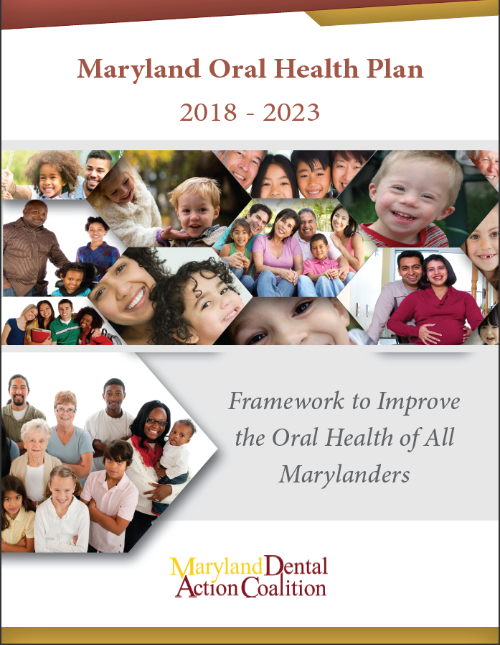 Secured funding in the state budget for Medicaid adult dental coverage. MDAC's advocacy efforts resulted in the unanimous passage of SB 284 on April 7, 2018, which established a Medicaid adult dental pilot program scheduled to go into effect early 2019. During the 2018 legislative session, MDAC briefed the state Senate on the results of the Financial Impact of Emergency Department Visits by Adults for Dental Conditions study, and testified before both the Senate and House. MDAC also distributed copies of the study and individual county reports to all 24 county public health officers in Maryland, and presented the study results at three national convenings. 
 
Supported and augmented implementation of the Maryland Medical Assistance – Dental Coverage for Adults – Pilot Program. Representatives from Medicaid attended MDAC's June 2018 statewide convening to participate in a facilitated discussion on the implementation of the Maryland Medicaid adult dental pilot program. Discussions centered on how to encourage provider participation in the program; make beneficiaries aware of their new dental benefits and encourage their use; and the collection of meaningful outcomes data. Following the convening, MDAC submitted a letter to Maryland Medicaid in support of their application to the Centers for Medicare and Medicaid Services (CMS) for a §1115 waiver application amendment. In August, MDAC sent a letter to CMS citing the importance or oral health to overall health, and expressing its support for the proposed §1115 waiver amendment submitted by the Maryland Department of Health.

In response to a request from Medicaid to provide feedback on the pilot program's proposed fee schedule and procedure codes, MDAC convened providers to solicit their comments and recommendations. Overall, the providers agreed that the draft coverage package was a strong starting point, and recommended modest changes and additions. MDAC forwarded their recommended revisions to Medicaid, several of which were accepted.
 
Hosted a statewide convening of oral health stakeholders.  MDAC's statewide convening, Oral Health and Overall Health: Opportunities for Continued Success in Maryland, was held in June 2018. Plenary and breakout sessions addressed topics including the impact of the uninsured on the public health system; how community health workers provide a critical link to better health; hypertension screening in the dental setting; understanding the health behaviors of the Latino and immigrant communities in Maryland; racial disparities and oral health; and the Medicaid adult dental pilot program.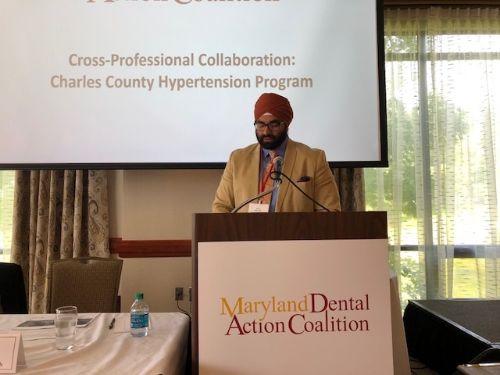 Fostered and supported a positive transition to a new state dental director of the Maryland Department of Health Office of Oral Health. Debony Hughes, DDS became an ex-officio member of the MDAC board of directors in May 2018, shortly after assuming her position at the Maryland Department of Health Office of Oral Health. An interview with Dr. Hughes was featured in the May 2018 MDAC newsletter, and she gave the opening keynote address at MDAC's statewide convening last June.
Participated in the OH2020 Medicaid Adult Dental Benefit Learning Collaborative.  At the end of 2017, the OH 2020 policy workgroup formed a Medicaid adult dental learning collaborative for oral health advocates, including MDAC, who actively work to expand or defend adult dental benefits offered through their state Medicaid program. The collaborative, an opportunity for partners to learn from and support one another, met via conference call every other week during the legislative session. MDAC Executive Director Mary Backley gave several featured presentations on MDAC's work to secure an adult dental benefit in Medicaid. At the end of the legislative session, the collaborative explored advocacy strategies for use in future campaigns.
 
MDAC ED appointed to the Maryland Advisory Council on Health and Wellness.  The Maryland Advisory Council on Health and Wellness promotes evidence-based programs for developing healthy lifestyles, and for the prevention, early detection, and treatment of chronic diseases. The council makes recommendations to the Maryland Department of Health on chronic disease prevention, health, and wellness. The council is comprised of four committees focused on arthritis, diabetes, heart disease and stroke, and physical fitness. MDAC Executive Director Mary Backley was appointed to the heart disease and stroke committee, where she helps ensure that oral health is included in conversations about overall health.
Protected pediatric dental coverage as an essential health benefit.  MDAC and its national partners successfully advocated to renew CHIP and protect coverage for the more than 137,000 Maryland children covered by the program. MDAC worked to ensure that commercial dental plans have enough dentists and safety net providers in their networks, resulting in passage of the most robust network adequacy requirements in the nation.  
 
Improved access to and availability of dental services for children with complex dental needs.  MDAC met with key stakeholders to discuss actions needed to improve access to facilities for pediatric dental surgeries, address the reduction of operating room access for pediatric dental surgeries, and ensure oral health services for children with complex needs is addressed.
 
Updated the Healthy Teeth, Healthy Kids website.  MDAC updated the Healthy Teeth, Healthy Kids website with information on the importance of good oral health for children with special needs and teens.
 
Kept abreast of and advocated for national policy initiatives to improve access to care.  In August 2018, MDAC Executive Director Mary Backley, DentaQuest Foundation's Patrick Finnerty, Senior Advisor for State Oral Health Programs and Marcia Brand, Senior Advisor, National Health Programs visited Capitol Hill. They met with senior legislative staff in the offices of Senator Ben Cardin (D-MD), Senator Rob Portman (R-OH), and Senator Pat Roberts (R-KS) to discuss the OH 2020 Network and the need for dental coverage in both Medicaid and Medicare.