Leadership
Diane Romaine, DMD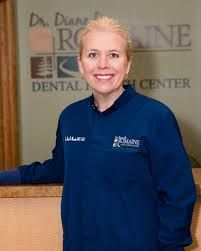 Dr. Romaine has practiced general dentistry in Frostburg, Maryland, since receiving her DMD from the University of Pittsburgh School of Dental Medicine in 1995. In 2011 she achieved Mastership in the Academy of General Dentistry and became President of the Maryland State Dental Association. Dr. Romaine's commitment to integrating advanced general practice access, to patients in rural Western Maryland, earned her the honor of Maryland Rural Health Practitioner of the Year in 2013. Dr. Romaine is a Dean's Faculty educator for the University of Maryland School of Dentistry and for Western Maryland Area Health Education Center (AHEC) where her practice is a dental student externship site.
In 2010, Dr. Romaine initiated the Western Maryland Mission of Mercy free adult dental clinic, which has developed into a statewide program across Maryland, since delivering over $14 million of free dental services. She serves on the boards of Maryland Dental Action Coalition, AHEC West and Western Maryland Health Systems. Collaboratively, these groups formed the HRSA funded, Mountain Health Alliance which has developed innovative, best practices for dental health access national recognized by the Association of State and Territorial Dental Directors. During her tenure as President of the Maryland State Dental Association, (MSDA) she helped pass legislation increasing access to care, by expanded function to dental hygienists delivering local anesthesia, and by creating a temporary volunteer dental license, for those willing and qualified to serve Maryland citizens. Most recently she worked with Senator Barbara Mikulski to reverse Allegany County's non-rural classification by the US Office of Management and Budget (OMB) due to the 2010 census. This policy change, led to the renewal of HRSA grant funding for dental access in Western Maryland and changed OMB national policy to no longer include prison populations when designating rural areas.
Presently, Dr. Romaine is President of the Maryland State Dental Association Foundation where she chaired the Maryland Dental Emergency Department Workgroup. The workgroup has quantified and developed a Resource Guide to continue to reduce patients seeking dental treatment in hospital emergency departments. Since 2010 Maryland has been one of the few states to see a reduction in Emergency Department dental visits. In November of 2014, Dr. Romaine coauthored an American Dental Association (ADA) Health Policy Institute Research Brief, "Diverting Emergency Department Dental Visits Could Save Maryland's Medicaid Program $4 million per Year". She is working currently with stakeholders in Maryland to develop a more robust adult dental Medicaid program. Most recently she was appointed to the Emergency Department Workgroup for the American Association of State and Territorial Dental Directors, and to Maryland Senator Ben Cardin's Health Advisory Commission. In 2015 she was a Dentaquest Health Equity Hero nominee.
Dr. Romaine and her husband Al have 2 children; Claire, a fourth year student at the University of Virginia, and Ethan, a first year student at New York University. The Romaine's have hosted many American Field Service (AFS) exchange students over the past years from Portugal, South Africa, Chile, France and Kosovo. She enjoys skiing, reading, and travel.