Leadership
Catie Brenneman, MPA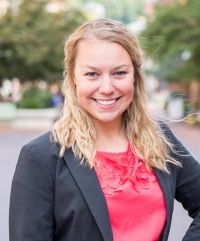 Catie Wampole is the Mountain Health Alliance Network Director at AHEC West. The Mountain Health Alliance is a regional network serving four counties in Maryland, Pennsylvania and West Virginia. Catie has been an employee of AHEC West for two and a half years. 
Throughout her career, Catie has worked one-on-one with diverse, underserved populations including individuals living with chronic disease and oral health conditions, homeless individuals and families, those fleeing domestic violence, the uninsured and underinsured, and individuals suffering from substance abuse and mental health diagnoses. 
A varied work history that includes a psychiatric facility in West Virginia, a homeless shelter in Virginia Beach, and health-insurance counseling in Western Maryland has provided Catie with a unique perspective as a Program Coordinator at AHEC West. These diverse experiences have allowed her to gain insight into the needs of the community she serves. Catie believes in helping others by encouraging self-sufficiency and empowering people to live healthier lives, ultimately making our community stronger.
A native of Frederick, Catie resides in Western Maryland. She holds a Bachelor's of Social Work (BSW) from Marshall University and a master's degree in Public Administration from Ohio University.