Leadership
Amy Kleine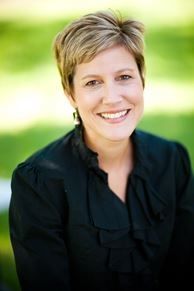 Amy Kleine directs the Harry and Jeanette Weinberg Foundation's program area to ensure that people have safe and stable housing, access to short-term economic and social service support in times of crisis, access to sufficient and nutritious food, and opportunities to receive quality health care. To achieve those goals, the Foundation partners with organizations providing direct services to people experiencing homelessness, food insecurity, and poor health. Ms. Kleine oversees capital, program, and operating grants to assist these organizations in their important work. She has been in this role since 2008. Beginning in 2017, she is also managing the Foundation's grant making in the disabilities field.
Her most recent position before joining The Weinberg Foundation in 2008 was with Jhpiego, an international nonprofit organization affiliated with The Johns Hopkins University. Ms. Kleine managed the global Cervical Cancer Prevention Program, implementing low-cost screen-and-treat programs in numerous countries. Ms. Kleine's other duties with Jhpiego included program officer for the US government funded ACCESS Maternal and Newborn Health Program and Team Leader for the Asia/Near East region. Ms. Kleine served with the United States Peace Corps in Morocco as a community health volunteer from 1997-1999 and the United States Crisis Corps in San Isidro, Nicaragua, where she worked as a community development agent. 
Author or co-author of numerous well-regarded publications and presentations on women's health issues in the developing world, Ms. Kleine has lived and worked in many countries including Ecuador, Nicaragua, Peru, Haiti, Morocco, Ghana, Malawi, South Africa, Thailand, Indonesia, and the Philippines.
Ms. Kleine is a magna cum laude graduate of Kalamazoo College, where she earned a Bachelor's degree in International and Latin American Studies, as well as a membership in Phi Beta Kappa. She obtained a Master of Public Health degree from the University of Michigan School of Public Health, and also earned a certificate in Women's and Reproductive Health. Ms. Kleine also holds a Master's Degree in Social Work, concentrating on Management of Human Services, from the University of Michigan.  Ms. Kleine was named "Spirited Woman Rising of Baltimore 2010" and was among the Daily Record's Forty Under 40 in 2014. She is a graduate of the Greater Baltimore Committee's Leadership Class of 2012; and is in the Leadership Maryland Class of 2015.
Ms. Kleine serves on the Baltimore City Continuum of Care Board, overseeing homeless services. She lives in Catonsville with her husband and daughter.